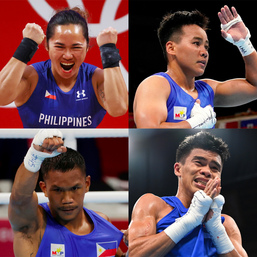 Hidilyn Diaz made history by being the first Gold Medalist for the Philippines in the Olympics.
And, the rest of the winners in the 2020 Olympics held at Tokyo, Japan are mostly from the Boxing event.
Silver medalists:
Nesthy Petecio, boxing, women's feather – first Filipina Olympic boxing medalist
Carlo Paalam, boxing, men's flyweight
Bronze medalist:
Eumir Marcial, boxin, men's middle
As per Philippine law, National Athletes and Coaches Benefits and Incentives Act, the government is mandated to give ₱10 million to an Olympic gold medalist, ₱5 million to an Olympic silver medalist, and ₱2 million to an Olympic bronze medalist.
Also, all of the medalists will receive the Order of the Lapu-Lapu medal, which is given to Filipinos "who have excelled in something and brought honor to the country," according to President Duterte.
And, all Filipino athletes who participated in the Tokyo Olympics will get P200,000 from the Office of the President, as well as Presidential Citations, Duterte added.